Project to Improve Convenience of the Madrid Protocol by Enriching Information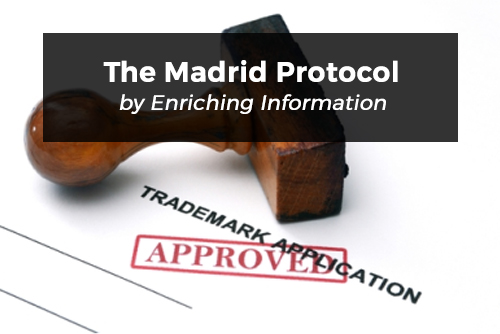 Project to Improve Convenience of the Madrid Protocol by Enriching Information
- Lead Office : JPO -
---
1. Description of project
The System of the Protocol Relating to the Madrid Agreement Concerning the International Registration of Marks (hereinafter referred to as the "Madrid Protocol") contributes to reducing the total costs and procedural burdens of the applicant by allowing a one stop solution for registering and managing marks worldwide by the WIPO.
However, information on the procedures of each Contracting Party for the Madrid Protocol  (in particular, procedures of designated offices) is provided through websites by the WIPO and each contracting party's office, but some users of the Madrid Protocol point out that it is not easy to obtain sufficient information necessary for those procedures in an efficient manner.
Under the above-mentioned circumstance, users also pointed out that it takes a long time to investigate the procedures by confirming information provided in limited languages by each Contracting Party and by asking local agents to carry out such confirmation and investigation, which results in reducing the time to consider in detail to effectively communicate with each office.
This project aims to provide users with "easy-to-use information guide" regarding the domestic procedures and requirements of TM5 Partners in the standardized format, thereby ensuring that users of the Madrid protocol file international applications, and respond to notifications of provisional refusal to the Office of Designated Parties.
Such detailed "easy-to-use information guide" will be beneficial for new contracting parties of the Madrid Protocol because it will provide a user-friendly source of relevant information, thereby contributing to the promotion of accession to the Madrid Protocol.
2.

Information on Procedures before the Office of the designated Contracting party for Madrid Protocol Applicants
---